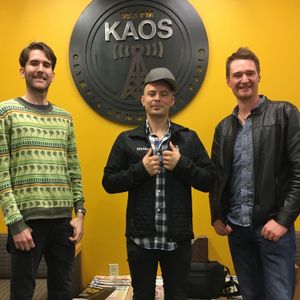 Songs about colors and colorful things this week, from Afro Blue to Pink Wasabi. Plus live in-studio music by The Nordic Fiddlers Bloc. All this and it's the KAOS fall membership drive, so be sure to make your pledge of support (do it online). Your favorite community radio station thanks you!
Listen to past episodes of Spin The Globe free at Mixcloud. 
Remember to get your free Daily Spin by liking STG on Facebook — please like and share! FB algorithms are constricting the love and fewer people are being exposed to STG's sounds. Your shares and likes help!
Hour 1
Seiva "azul" from Seiva
Anoushka Shankar "red sun" from Rise
Systema Solar "El Amarillo" from Systema Solar
The Cool Crooners of Bulawayo "blue sky" from Blue Sky
Polyrhythmics "Pink Wasabi" from Polyrhythmics
Tanghetto "Blue tango" from Mas Allá del Sur
Set break — live set from The Nordic Fiddlers Bloc
The Nordic Fiddlers Bloc "Talon's Trip to Thompson Island" from live in the KAOS performance Studio
The Nordic Fiddlers Bloc "Deliverance" from live in the KAOS performance Studio
The Nordic Fiddlers Bloc "Flinken" from live in the KAOS performance Studio
The Nordic Fiddlers Bloc "Da Scallowa Lasses / Lorna's Reel" from live in the KAOS performance Studio
Hour 2
Freshlyground "Pink Confetti" from Ma'cheri
Los Po-Boy-Citos "Barrio Blue" from New Orleans Latin Soul
Set break — KAOS Community Billboard
Mulatu Astatke "Green Africa" from Mulatu Steps Ahead
The Liberators "Red Green Live Die" from Power Struggle
The Frightnrs "purple" from Nothing More to Say
Seheno "Blue Joy" from Ka
Tasa "blue" from Urban Turban
Ernest Ranglin "Mystic Blue (feat. Yossi Fine, Jonathan Korty, Ernest Ranglin, Eric Levy & Inx Herman)" from Bless Up
Set break — Spin The Globe world music concert calendar
Arabic Breakbeats "Blue Turban" from Arabian Travels
Mei Han and Red Chamber "Dark Red Ruby" from Classical and Contemporary Chinese Music